I lost a shop day yesterday but it was good to have friends over for food and drink. In this busy world we live in today it doesn't happen often enough. Life is totally out of balance with work dominance distorting our values and life. We started losing our way fifty or so years ago and I'm guessing most of my generational cohorts will need to die for a chance to regain some balance. Enough....When I think about it I can understand going postal.
The BBQ brisket was one of the best I've ever done, almost fall off the fork tender, moist and with almost perfect balance of flavors. All the sides were very good, even the ones that shouldn't be close to a plate of BBQ :-). Here is how the brisket looked fresh out of the pit. Shame there are no more photos but I got too busy enjoying and forgot the camera.
I dry fitted the base this AM just to see how it looks and to take some rough measurements. The base will be 627mm wide and 1463mm long. The top will have a 61mm split and at this time I'm not sure how long it will end up, I'll guess just a little under 3 meters.
I've one shoulder of the base tenons cut. I will need to change sawing technique. My most aggressive cross cut saw is 12PPI and because of the width and depth of the shoulder cut it needs around 9PPI. The saw plate overheated causing the cut to track off line. That is the bad news, the good is it went off line to the waste side and a little chisel work will take care of it. For the next shoulder I will treat it like a tenon cut and saw down the shoulder at 45 degrees, flip the board saw the other side at 45 degrees and then come back an take out the middle. A PITA but I expect less a PITA than the chisel work.
Here is how the base fits together: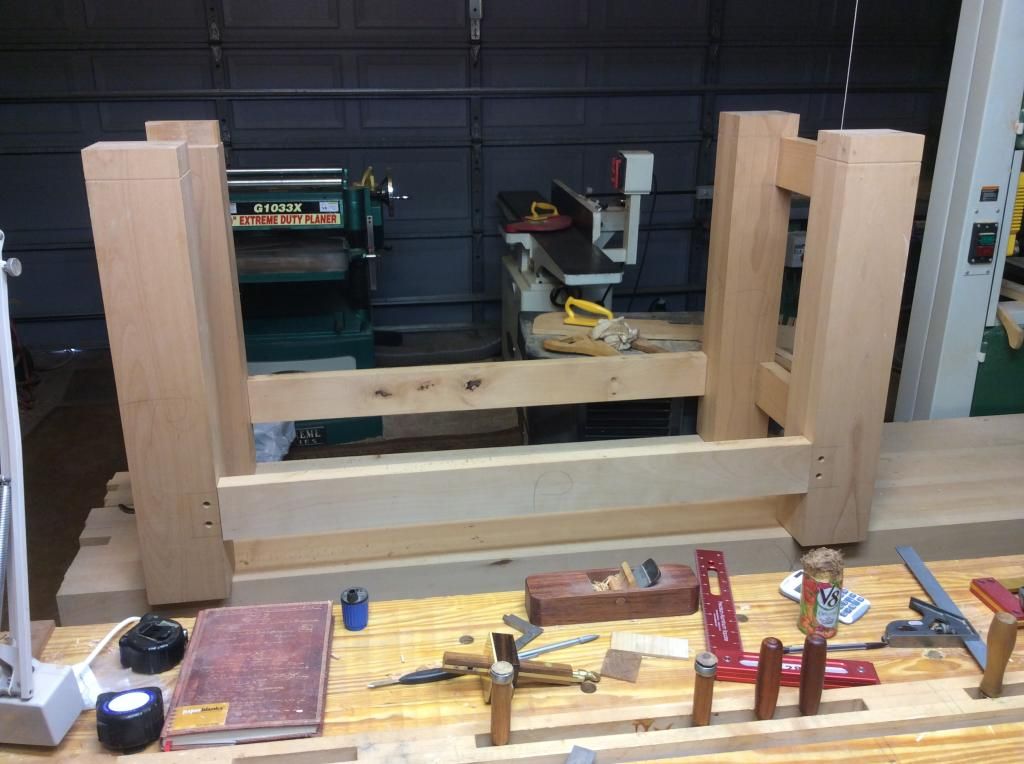 Another view, if you look carefully you can see the off track shoulder cut: