I've had three hand made high carbon steel Japanese kitchen knives for long enough to love 'em but a short enough time to still be amazed every time I use one . Like good Japanese chisels the knives are small works of art. They take a wonderful edge and feel good in hand with great balance and yet are very simple in appearance, ,almost looking unfinished compared to western knives.
A skilled blacksmith hand working high carbon steel can make magic. The cutter, chisel, plane iron, or knife produced can take and hold a cutting edge like no other. Every time I use one I break into a ear to ear grin.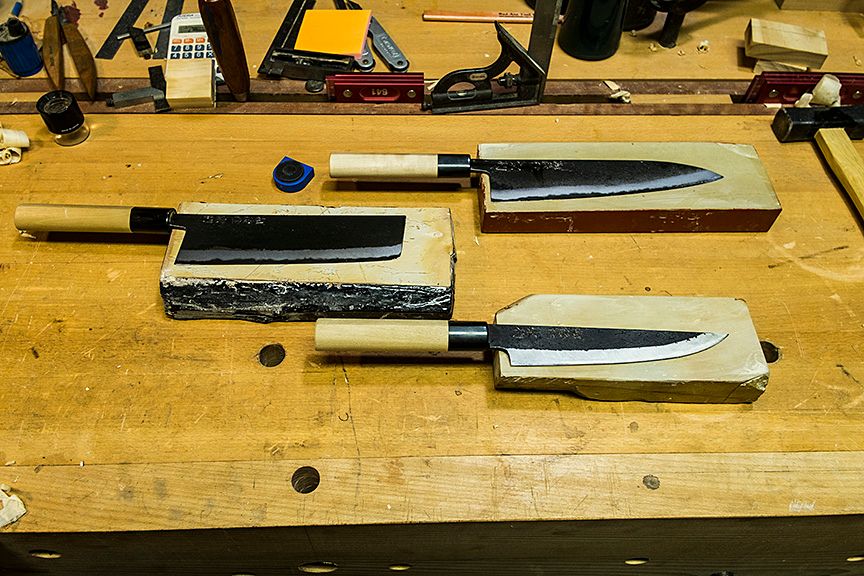 The middle knife on the left is for slicing vegetables, the bottom right knife has a thicker blade and is used for de-boning and cutting heavier meats, and top right knife has a thinner blade and is for general purpose use but works very well slicing thin cuts from lighter meats such as fish. BTW, how do you like the way I snuck into the photo three of my natural water stones.
Last week when I was testing "sharpness" all three knives tested sharper than my best chisels, I can babble on but the only way to appreciate how good they are is to use 'em. After the first cut they no longer seem expensive.
About the only downside is they take more care than the typical stainless steel kitchen knife. BTW, nothing wrong with a stainless steel kitchen knife, I use them every day but when I'm in the kitchen for pleasure the Japanese knives come out to play.
ken