One of the advantages of living past your sell by date is the smallest thing can send you back in time and mostly, except for MsBubba, no one wants to lock you in the looney bin. Week tea I know but that's part of being older than dirt along with senior discounts and the Golden Eagle National Park pass.
Last night I needed to grab something to eat before show time. There is a Whataburger on the way and close to the Center. Most of the time it is just a quick in, eat a hamburger, and out in less than 15 minutes. Last night the time table held but soon I was back in, I believe, 1957 and remembering the first time I had a Whataburger. At that time I was a student in a San Antonio, TX boarding school, one of my fellow students, Bob Shoop, invited me to spend a long weekend at his home in Corpus Christi, TX. Bob's dad owned a large restaurant in Corpus but all Bob could talk about was having a Whataburger once we were in Corpus.
I was not disappointed, with the first bite it was like a Disney movie with blue birds singing and angels descending from on high. It doesn't happen often, in fact the only other time I can remember was my first visit to Mama Ninfa's on Navigation in Houston, TX.
A true quote from their web site "This is where it all started, where Mama Ninfa first stuffed chargrilled sliced beef into a handmade flour tortilla and launched the national fajita craze...". It wasn't just her Tacos Al Carbon but everything I had that night, the refried beans, the rice, it all had me licking the plate and wanting more. Shortly after that first visit Ninfa's was discovered and lines out the door stretched around the block. All good things, except Whataburger, end or are loved to death and Ninfa's is not the place it once was but for a few short years it was the best not just Mexican food but food you could find at any price. It was even better than K-Paul's in New Orleans.
Unlike many shops that expand, while today's Whataburger will no longer call down the angels or blue birds it has remained very true to the original.
Enough old farting. MsBubba's Mahjong box ain't the best....The Ebonizing of the White Oak lid and base is very pretty but it didn't play well with the glue and the Cherry box. Also I'm not sure the iron/acid will not stain the Mahjong tiles. It is back to the drawing board for the Mahjong box.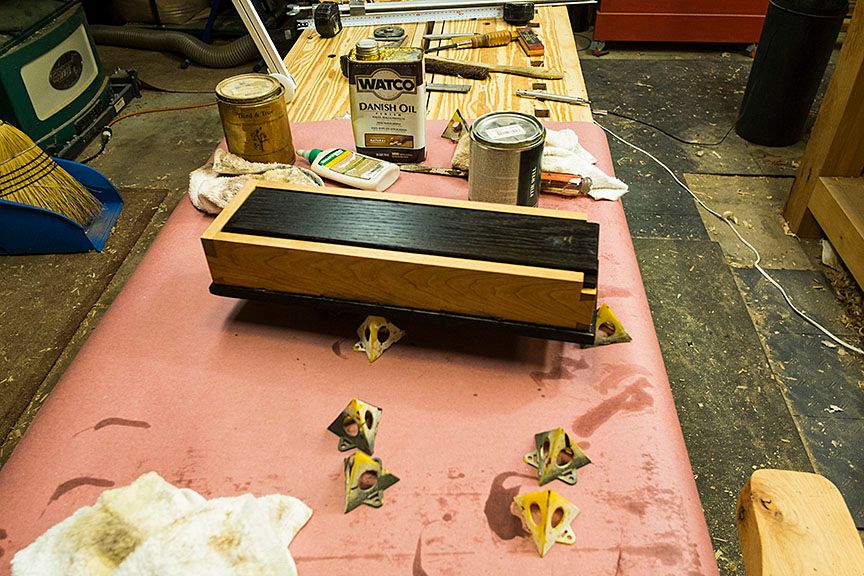 As always....click it to big it,
ken